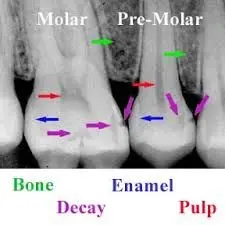 Dental X-rays are pictures of the teeth, bones and soft tissues. X-rays can show cavities, bone loss, cysts or tumors, impacted teeth or check the status of developing teeth.
Horvath Family Dentistry uses all digital X-ray equipment, which reduces radiation exposure to patients by 80% or more. Our patients safety is very important to us.
We take four cavity detection X-rays once a year, which are known as Bitewing X-rays. These X-rays allow us to see between the teeth in areas that cannot be seen with the naked eye. We also take a Panoramic X-ray (all the teeth in one picture) once every 3-5 years or as needed. A Periapical X-ray evaluates one or two teeth at a time. It shows the entire length of each tooth to evaluate the root and crown.
The benefits of X-rays are known: They help dentists diagnose common problems such as cavities, gum disease, infections and dental abnormalities. Without them more decay would go undetected and treatment would begin later. As a result, people would have more pain and lose more teeth.