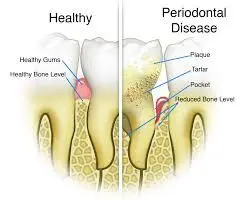 Periodontal disease is an inflammatory condition that begins with gingivitis and can proceed to the most advanced form of periodontal disease. Periodontal disease is the infection of the gums, bone surrounding the teeth and ligaments responsible for keeping teeth in their proper alignment.
What Causes Periodontal Disease?
Plaque forms throughout the day and this is a normal process that can easily be removed by brushing and flossing. If plaque is not properly removed, bacteria in the plaque will irritate your gums and cause an immune response. This is where you see redness, swelling and possible bleeding on your gums. This is also known as gingivitis.
Gingivitis is the initial stage of periodontal disease and is reversible. It can quickly progress to early, moderate and advanced periodontitis if not treated. The biggest factors that lead to periodontal disease are lack of oral hygiene and not maintaining six month cleanings.
Over time this plaque will harden and become tarter. As the tarter builds up and hardens, it makes its way under your gum line and onto the root surface of the tooth. This can lead to deterioration of the bone and ligaments surrounding the teeth.
When bone loss is present, a regular cleaning can no longer be performed. Instead, scaling and root planning, also known as a "deep cleaning", is indicated. A deep cleaning is usually performed in two appointments, right and left side, with the use of local anesthesia.
After this treatment is performed, three month cleanings are necessary to maintain periodontal disease and to prevent it from progressing. A referral to a periodontist (gum specialist) may be necessary if there is little to no improvement from the deep cleaning.
Other Risk Factors:
TOBACCO - Smoking and chewing tobacco, as well as electronic cigarettes.
MEDICAL CONDITIONS - Diabetes, HIV, forms of cancer, weakened immune systems can also increase your risk.
DRY MOUTH - Some prescription medications cause dry mouth which allow bacteria to multiply more rapidly.
MISALIGNMENT OR CROWDING - Difficulty removing plaque due to overlap and inability to eliminate the bacteria.
GENETICS - Some people are more predisposed to gum disease than others.