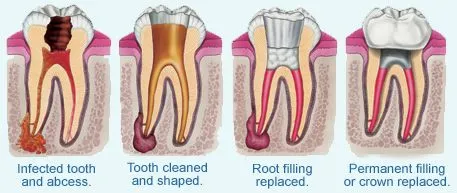 Infected teeth which are badly decayed into the nerve will require a root canal in order to save the tooth. The dentist removes the decay and infected tissue and seals the inner portion of the root.
Signs a Root Canal is needed:
Patient reports severe pain, hot or cold sensitivity or pain upon chewing.
A white pimple near the gum may indicate an abscess or infection.
Trauma to the face can cause fractures to teeth. This leads to damage to the nerve and the pulp.